The Management of Federal College Of Education, Obudu Cross River State has announced the matriculation ceremony for the 2021/2022 NCE admitted students as reported by Myschoolnews.ng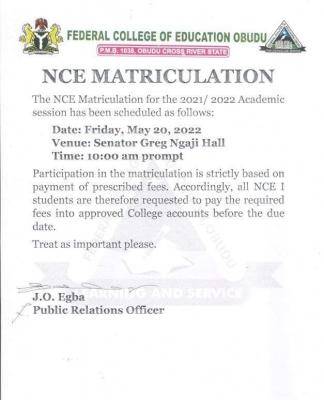 The NCE Matriculation of Federal College of Education Obudu for the 2021/ 2022 Academic session has been scheduled as follows:
Date: Friday, May 20, 2022
Venue: Senator Greg Ngaji Hall
Time: 10:00 am prompt
Participation in the matriculation is strictly based on payment of prescribed fees. Accordingly, all NCE I students are therefore requested to pay the required fees into approved College accounts before the due date.
Treat as important please.