Another job opportunity has avail itself for interested applicants who are qualified for the position of Budget and Business Planning Analyst (Supervisory) at MTN Nigeria in its Lagos office.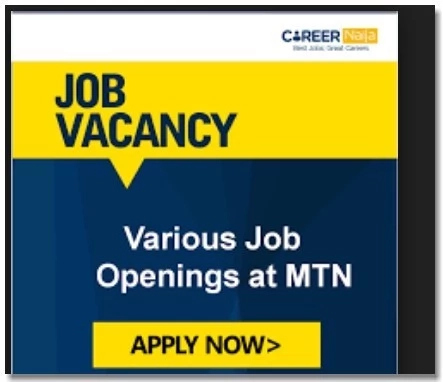 MTN Nigeria – The leader in telecommunications in Nigeria, and a part of a diverse community in Africa and the Middle East, our brand is instantly recognizable. It is through our compelling brand that we are able to attract the right talents who we carefully nurture by continuously improving our employment offerings even beyond reward and recognition.
Job Title: Budget and Business Planning Analyst (Supervisory)
Job Type: Full Time
Qualification: BA/BSc/HND
Experience: 3 years
Location: Nigeria
Job Field: Finance / Accounting / Audit
Also See: Manager Jobs in Lagos at MTN Nigeria – September, 2018
Job Description
To coordinate the preparation of NWG detail business plan and provide support for the development of MTNN business plan
Develop a costing model for all Network and Facility major projects like average BTS and Transmission site project total cost, working with all functional heads to continuously benchmark cost against standard costing models and other best practice.
Business cases evaluation and investment appraisal of key projects
Provide support for the development of MTNN business plan/forecast, coordinating and preparing Network Group business plan/forecast details.
Ensure accurate provision of financial information to support Nominal Plan Design, providing input into the preparation of Network Group financial related Board Papers.
Implement a Network Budgetary Model to capture all network material and software requirements which include building different models for BTS and switches operational cost requirements in terms of fuel, maintenance, etc.
Track and report financial ratios against budgetary baselines, ensuring accuracy and integrity of financial information and cost provided by all departments in Network Group.
Coordinate liaison between Finance and other departments within NWG to ensure all departmental budgets/forecasts are accurately and promptly prepared and uploaded
Prepare Monthly Integrated Reporting (Financial CAPEX & Network KPIs)
Ensure accuracy of budget input and its loading on Hyperion (Opex & Capex budget)
Coordinate the preparation of network rollout detailed Bill of Materials, ensuring periodic budget re-forecasting and communicating the findings to all stakeholders
Implement an effective and efficient process for collating and validating network operational and capital expenditure requirements from all stakeholders for monthly forecast and annual budget design.
Execute accurate data collation and provide input into the design and review of Network Group budget from all stakeholders.
Continuously seek self-professional development to sharpen skills and capabilities in a versatile and evolving digital landscape.
Foster active collaboration and relationships with employees across all levels and divisions in line with MTN's VB and values.
Also See: Coordinator Document Control Jobs in Lagos at MTN Nigeria – September, 2018
Job Condition:
Normal MTNN working conditions
May be required to work extended hours
Open plan office

Experience & Training 
Education:
Fluent in English
First degree in Accounting or any other related field (sciences or social sciences).
Qualified Chartered Accountant ACA,ACCA,CIMA,CPA or MBA/MSC
Experience:
Minimum of 3 years' experience in an area of specialisation; with experience working with others
Experience working in a medium organization
Experience covering similar functions in multinational Manufacturing and Telecommunication companies. This Includes: Experience in a large customer service oriented organization Experience in financial statement analysis Budgeting and forecasting
Training:
Best practices in budget preparation.
Financial Analysis.
Financial modellin

Minimum Qualification
Closing Date for Application: 21 September, 2018
Mode of Application
Click the ENROLL NOW button below to apply on the company website..

Also See: Graduate DevCo Internship Programme in Lagos at Sterling Bank Plc – 2018
Ads:
Click here to apply for
recruitment jobs in Nigeria
Tags: Budget And Business Planning Analyst (supervisory) jobs, JOBS IN LAGOS, MTN Nigeria jobs