A 26-year-old undergraduate, simply identified as Nura Iliyasu, has reportedly mounted a 50-metre mast overlooking the Presidential Vila, Abuja, on a 7-day hunger-protest against what he called bad leadership by the President Muhammadu Buhari-led administration.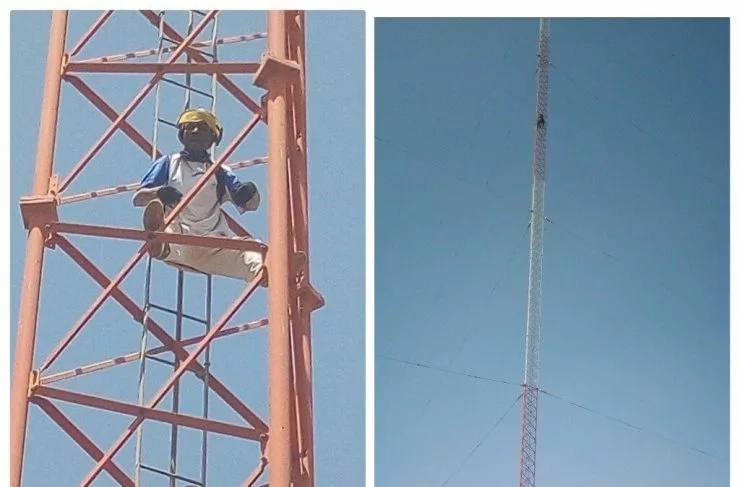 An eyewitness said Mr. Iliyasu also called on all opposition political parties to unite and produce a formidable candidate that will take over the leadership of the country and salvage the economy.
In Another News: 300 Level FUNAAB Student, Drunk, Unconscious Hospitalized After Drinking Bet Reward:#5K
He told journalists: "Iliyasu said his one-man protest was against national indirection, pervasive hunger and starvation, un-godly generic poverty, youth redundancy and hopelessness, schizophrenic governance, souring foreign-exchange, high commodity prices; dysfunctional refineries and textile industries, elites medical tourism abroad, continued kidnappings and other negativities too numerous to mention."
At press time, sources told DAILY POST that personnel of the Department of State Services, DSS, and the FCT Emergency Management Agency had convinced the frustrated man to come down from the 50metre mast.
Source: DAILY POST
INFO:
For All Online Registrations, Printing, Photocopy, Passports, Plastic ID card, Exam Scratch cards, JAMB and WAEC Past Questions, Result Checking, Flight Booking, Job and Scholarship Application visit
NOVA Business Cafe
at No. 45 Ikot Ekpene Road, After MTN Office, Uyo. Akwa Ibom State.
.
IMPORTANT!
Do you have stories or news to publish? If yes,
Submit Here
!
Tags: Muhammadu Buhari, Society News