Apply for the ongoing Federal Government assisted N10,000 Trader Moni Collateral-Free Loan 2018/2019. See the step-by-step guide on how to apply here.
The federal government through the Bank of Industry (BoI) and Government Enterprise and Empowerment Programme (GEEP) has launched 'Trader Moni' in Osun State, a product through which traders could access loans of up to N10,000 at the first instance.
'Trader Moni' was launched Monday in Iwo, Iwo Local Government Area of the state by Vice-President Yemi Osinbajo.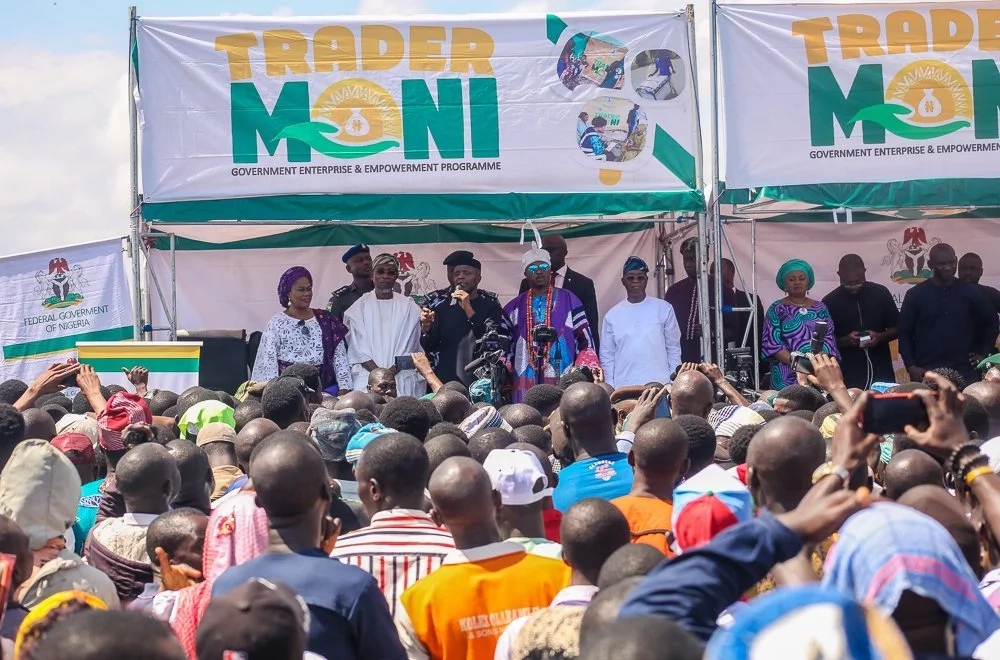 Performing the official launch, Prof. Osinbajo said the traders' mini programme was part of the federal government's social intervention aimed at funding micro business in the country.
Osinbajo, who said no government in the history of the country has done such an an economic boosting programme, said the All Progressives Congress (APC)-led government has done well in the area of people's welfare.
The vice-president said that the 'Trader Moni' programme will help in boosting micro and small scale businesses, petty trading and commercial activities across the country.
He said that the beneficiaries would be given a loan of N10,000 each, which would be repayable within six months, adding that any of the beneficiaries that pay back the loan within the stipulated period would qualify for another bigger amount of N15,000.
According to him, "Trader Moni scheme is targeted at petty traders, market women, artisans and small scale business enterprises to cater for ultra-micro enterprises.
"The policy of the federal government is to support businesses, not just big business but particularly small, medium-sized businesses and micro businesses. The whole idea is that we want to ensure that we give whatever support to people to alleviate their businesses.
"For instance, if we give you N10,000 and refund within six months, then you are qualified to collect N15,000. If you pay back the sum of N15,000 you are qualified to get N20,000."
Commending President Muhammadu Buhari for giving priority to the welfare of Nigerians, Osinbajo said there was the need for the people to reciprocate the president's good work by re-electing him in 2019.
Speaking at the event, the Executive Director, BoI, Mrs Toyin Adeniji, said that no fewer than 30,000 beneficiaries would have access to the loan.
Adeniji further explained that the beneficiaries of the Trader Moni scheme are in all 36 states and the Federal Capital Territory (FCT)
"Our agents have already met the market women at their point of sales to register them. They would get the money and pay it back immediately through Mobile Wallet. In fact, many people have started receiving the alert.
"Under 'Trader Moni', traders don't need any documents or property to collect N10,000 loan from the federal government.
"They only need to register, get captured and receive the money through their phones. The repayment plan is for six months and beneficiaries would pay a paltry N250 interest on the N10,000 and qualify for a bigger loan thereafter," she said.
During the launch, many traders have availed themselves of the opportunity. In her testimonial, Alhaja Kudirat Husssain, a pepper seller in Iwo, said she had heard about the 'Trader Moni' for a while but did not believe the government will be giving people like her loans.
As a market woman, who had been turned away by banks when she needed to expand her business, it was unbelievable, she said.
Under the scheme, beneficiaries can get access to a higher facility ranging from N15,000 to N50,000 when they repay N10,000 within the stipulated time period.
Under the scheme, beneficiaries can get access to a higher facility ranging from N15,000 to N50,000 when they repay N10,000 within the stipulated time period.
Requirements for the Trader moni loan scheme
To be eligible and be a bonafide beneficiary of the Trader Moni scheme, you must possess the following;
You must be a Nigerian
You must be 18 years and above
You must be a business owner or a trader
You must belong to a market cooperative union in your location
You must have a valid identification
You must have a valid BVN
You must have a valid SIM/phone number that is register with the service providers
How to Apply for N10,000 Trader Moni Collateral-Free Loan

The scheme called "Trader Moni" launched under the Government Enterprise and Empowerment Programme (GEEP) was designed to help petty traders expand their trade with a collateral-free loan of at least N10,000 which would be repayable within a six-month period.
To apply, a enumeration agent will visit your cooperative unions and access either you or your application form submitted with your cooperative. When all documents have been checked and ascertained, you will be notified via text message.
The first amount to receive will be the sum of N10,000. Once this can be repaid, you will be granted access to receive N15,000 in your next application, etc.
The Trader Moni was launched last Tuesday in five markets in Lagos State with tens of thousands of beneficiaries already. According to reports, the Lagos markets already reached are Mushin, Ikotun, Agege, Ketu, and Abule Egba markets. Abia and Kano states have been listed as next in line. So wait for the turn of your state and find out more from your market cooperative unions or visit the Bank of industry website at https://www.boi.ng/
Please Share!
Ads:
Click here to apply for
recruitment jobs in Nigeria
Tags: Collateral-Free Loan, Trader Moni