Vice-Chancellor of the National Open University of Nigeria (NOUN), Prof. Olufemi Peters, has said that despite the university's known track record in the deployment of technology for its educational delivery, emerging techniques against cybersecurity would be embedded to protect students, Myschoolnews.ng gathered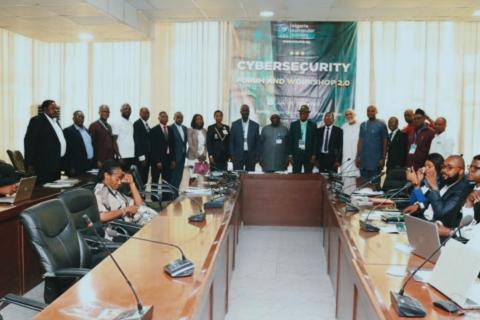 Peters stated this at the university's headquarters in Abuja, where it played host to the Nigerian Computer Society (NCS), who, in collaboration with the National Information Technology Development Agency (NITDA) and the Federal Inland Revenue Service (FIRS), held a 2-day Cybersecurity Forum and Workshop 2.0.
The workshop was held between 8 - 10 June, 2022, where stakeholders re-emphasised the need for internet users in Nigeria to be security conscious when online.
Speaking at the workshop, Peters said the university has always been a keen supporter of technological endeavours, especially as it pertains to education, saying that the university was one of the few universities that spearheaded the use of technology long before the advent of Covid-19 pandemic. 
He said the university will always be willing to support any technological efforts that propel education to the next level, adding NOUN as an Open and Distance Learning (ODL) university, the school has always integrated technology in its operations. 
The VC told participants that the workshop was important to the university as it could learn new techniques that will help to protect and sensitize NOUN students and staff on the importance of internet safety.
Peters also commended the NCS for always being at the forefront of promoting the adoption of technology with their workshops, commending the society for coming up with this year's theme, which sought to create awareness around online safety. 
President of the Nigerian Computer Society, Prof. Adesina Sodiya, thanked the university for always being great supporters and gracious host of the society.
The president said the timing of the workshop was well apt as cybersecurity needed to be taken seriously not only for younger users but for more experienced users as the internet gives a false sense of security that even the most experienced user might miss.
Sodiya added that the workshop was set to enlighten people on the dangers of the internet and red flags to look out for as many people get drawn into a false sense of safety online giving out private information that might likely be used for malicious purposes.
The Deputy President of the society, Dr. Mohammed Sirajo Aliyu, thanked NOUN and the Vice-Chancellor for always accommodating them, which illustrates that the university takes the workshop seriously.