UNIVERSITY OF ABUJA INTERNATIONAL CONFERENCE
In collaboration with the University of Muenster, Germany,
19-22 November, 2018
WHERE IS HOME?
NIGERIAN DIASPORA / DIASPORA IN NIGERIA
BACKGROUND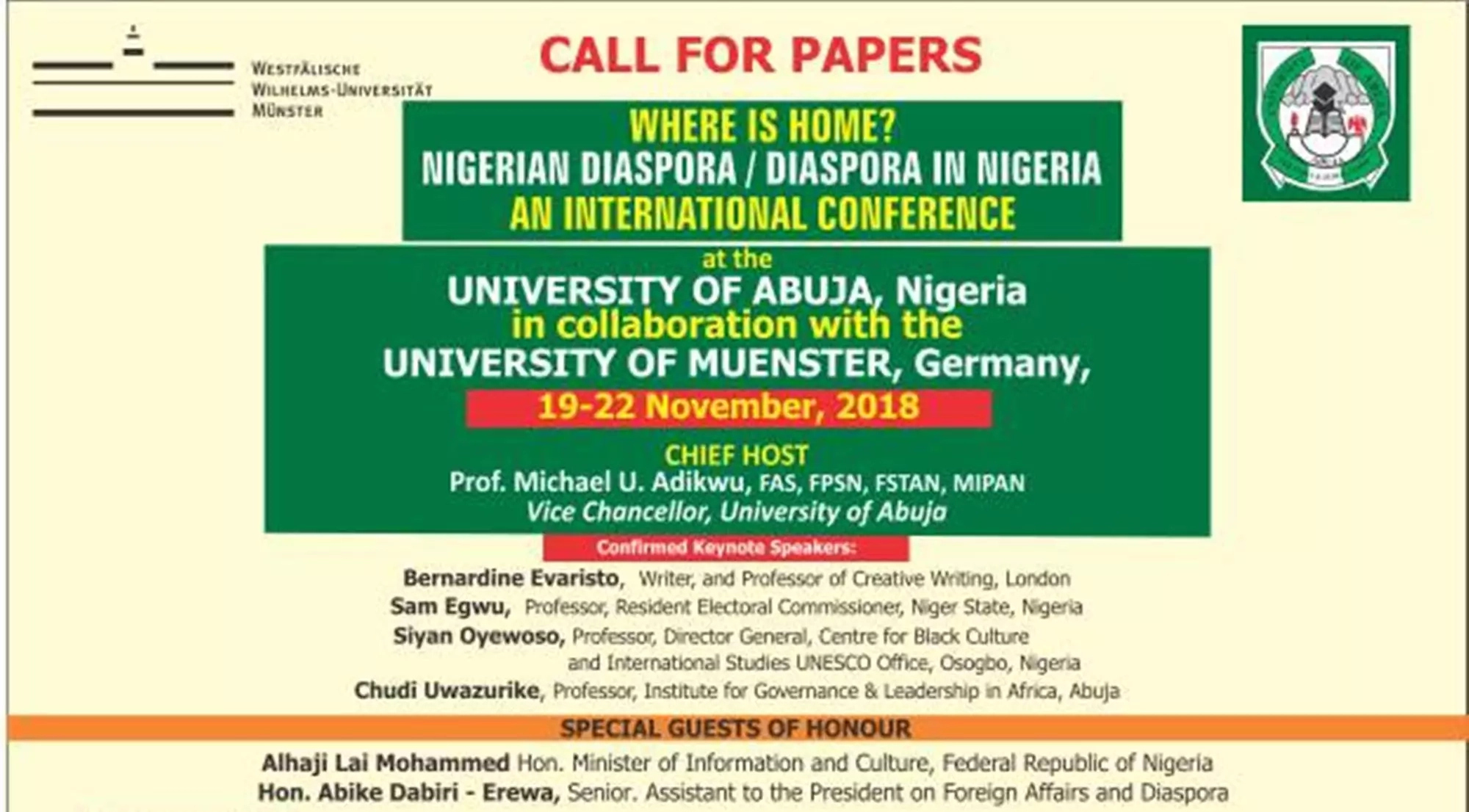 With global migratory movement, transcontinental transport and worldwide instant communication, the set-up, constellations and dynamics of society is changing rapidly. Whereas the organization in nation states is still widely perceived as the primary ordering principle, incisive change has long set in. New patterns of individual as well as group identity formation and social and cultural belonging have emerged as powerful, often transnational force fields competing with more traditional pattern of identity politics and cultural belonging.
Of these,  have evolved diaspora and indigene-settler formations as vibrant and pliable concepts which, although not new phenomena, have the power to focus important aspects characterizing today's societies and cultures on the move, besides the negative traits like racism, xenophobic attacks, political and economic marginalization, genocide, terrorism and so on. With its origins in the migratory patterns of races and ethnic nationalities going back to Biblical times in Judaism and Greek antiquity, indigene-settler conflicts and diaspora formations with the growing need for labour in plantations inEurope and the West Indies,which forced Black Africans and some other races to become 'migrants' in the New Worlds and West Indies, creating identity labels with racism as the basis for social and political inclusion or exclusion.
In the nineteenth century, indigene-settler crises characterizedthe contact between European colonizers and the colonized races the world over. In Eastern African countries of Kenya and Tanzania, as indeed with all settler colonies of the world, Central and South Africa inclusive, alienated land was always the key to crises. The white settlers came early in the century and immediately controlled the heart of the economy by appropriating the best part of land to themselves. It cost Kenya the Mau Mau War, Tanzania the MajiMaji War, then Zimbabwe, Angola, Zambia, Namibia and South Africa, guerrilla war fares,to gain independence and to reclaim their lands.
At independence, some ex-colonized nations sent white settlers back home and confiscated their large farm settlements. Blacks in South Africa, in contrast, formed Union Government with former minority white colonizers, while xenophobic attacks at other Black economic migrants, replaced the erstwhile monster,white apartheid policyagainst Black South Africans.
In the multiethnic and multicultural Nigeria, with Hausa-Fulani, Igbo and Yoruba as the majority and over 371 other ethnic groups as minority, constant crises erupt as a result of unresolved problems of nationhood such as citizenship and indigeneship questions. The North Central region alone, called Middle Belt,more than any other region records more than one third of the numerous conflicts over issues of citizenship, grazing space, identity and politics of inclusion or exclusion.
In the First Republic, the Igbo Eastern Nigerian based NCNC political party leader, Dr.NnamdiAzikiwe canvassed for votes among the Yoruba Western Nigerian Action Group based party, to become president of Nigeria, but was rebuffed in a politicalsongby the latter, as Azikiwe could only be 'king in his own father's [Igbo] land'. More recently, the secession threats by the Indigenous People of Biafra (IPOB) of East Central Nigeria over alleged marginalization, had attracted Northern Nigerian Arewa Youths' counter ultimatum of 1st October, 2017 for the Igbos to quit Northern Nigeria and go back home.
These indigene-settler issues and diaspora experiences, are a particularly salient example of a multiple diaspora and indigene-settler set-ups the world over which raise fundamental questions of Where is home? Who is a citizen/settler? What are his/her rights and entitlements? Do these rights and entitlements vary from one location in the country/world to another? What are the impacts of indigene-settler and diaspora formations on nation building and global peace? Can diaspora formations which have proved extremely resilient and evolved into highly influential patterns of transnational belonging not be harnessed for shaping the image of nation states and the peace of the universe at large? This international conference searches for answers and solutions to the above questions,explores aspects of diaspora cultural, historical, political or economic life within Nigeria and abroad, investigates possible inter-linkages between these desperate formations and other diaspora worldwide and how these formations can shape the image of nation states and universal peace.
The conveners invite contributions from suggested multiple sub-themesincluding (but not limited to) the under stated:
SUB-THEMES
Conceptualizing migration & the theory of migration
Conceptual and Theoretical issues on Diaspora
Diaspora and indigene-settler politics
Religion, diaspora and indigene-settler crises
The Economics of Diaspora and Indigene-settler crises
Histories of Nigerian Diaspora and indigene-settler crises
Diaspora and indigene-settler literature
Diaspora arts (film, architecture, painting, sculpture etc)
Diaspora, identity, memory, rootlessness and destiny
Digital Diaspora
Diaspora, indigene-settler encounters and cultural transfer
Diaspora formations and citizenship-settler practices
Diaspora and indigene-settler conflict resolution
Diaspora formations, indigene-settler crises, nation building and global peace
Diaspora and indigene-settler constitutional rights
Land-ownership systems and Indigene-settler conflicts
Diaspora, Indigene-settler relations and globalization
Diaspora and indigene-settler human rights
Diaspora, indigene-settler crises and the judiciary
Religion, politics and economy of herdsmen/farmers conflicts
Diaspora, indigene-settler communication and the new city phenomenon
Semantic reading of Diaspora and indigene-settler conflicts in the social media
Diaspora, Indigene-settler and electoral process
Diaspora, indigene-settler education and entrepreneurship
Diaspora, indigene-settler relations and Terrorism
ABSTRACT SUBMISSION GUIDELINES
Interested participants should submit the title of their paper and an abstract of not more than 300 words electronically on a separate page; and the title of the paper, name(s) of author(s), affiliation, full addresses, telephone number, email addresses and the sub-theme within which the author would like his/her paper to be discussed, on a second page to the following email: diasporaconfab2018@uniabuja.edu.ng on or before 31 August, 2018.
The conference will take place at University of Abuja, Abuja, Faculty of Management Auditorium, Main Campus, Airport Road, P.M.B.117, Abuja, FCT, Nigeria. Please follow the conference website at Diaspora Confab 2018 website OR University of Abuja for details on the venue, accommodation and travel.
The following conference fees apply:
African Students and scholars not in permanent employment                    (N 5,000)
African scholars in permanent employment                                       (N25,000)
Overseas students and scholars not in employment                     (30 EUR)
Overseas scholars in permanent employment                                       (60 EUR)
CONVENER: NIGERIA

Professor Effiok Bassey Uwatt

Dean, Faculty of Arts,

University of Abuja, Abuja

Phone no. +234-80-652-656-41

Email:profeffiokuwattba@gmail.com

CONVENER: GERMANY

Professor Klaus Stierstorfer

University of Muenster

Germany

Phone no. +49-251-83-24295

Email: stierstorfer@wwu.de
KEYNOTE SPEAKER
Professor Bernardine Evaristo
University of Muenster
Germany
KEYNOTE SPEAKER
Professor Chudi Uwazurike
Institute for Governance & Leadership in
Africa Abuja, Nigeria
KEYNOTE SPEAKER
Professor Siyan Oyewoso
Director General,
Centre for Black Culture and International Studies State, Nigeria
Unesco Office, Osogbo, Nigeria.
KEYNOTE SPEAKER
Professor Sam Egwu
Resident Electoral Commissioner, Niger State.
CHIEF HOST
Professor Michael U. Adikwu FAS, FPSN, FSTAN, MIPAN,
Vice Chancellor, University of Abuja, Abuja, Nigeria
SPECIAL GUEST OF HONOUR
Hon. Minister of Information and Culture, FCT, Abuja, Nigeria.
Please share this information!
Ads:
Click here to apply for
recruitment jobs in Nigeria
Tags: Call for Papers, Conferences